Shirts
Chook Industries Polo Shirt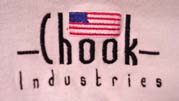 These polo shirts are official insignia clothing as worn by our employees. Each shirt is short sleeve with an embroidered Chook Industries logo. So Look good when you show up to your next business with your snug-fitting Chook Industries polo shirt!
Price: $25.00
Special Select
Special Select is a Chook Industries special line of clothing only offered for the most special customers. What is Special Select? Special Select clothes are one-of-a-kind apparel items that you can own. Therefore each piece of clothing is a PROTOTYPE. That is right, no two shirts, no two pairs of pants, not two pairs of shoes in the Special Select clothing line are alike. Each Special Select Item is cheaply done, perhaps with permanent marker for totally low-fi feel. When you wear Special Select, your look will exude a quiet strength that will gain you the respect you need. Do away with pretensions designer labels and wear something that looks like crap and revel in its irony. Most items will even change from washing to washing because they are so shoddy. Best of all when you buy an item from Special Select clothing line, you buy something that was actually worn by one of our employees.
Price: $10.00 per item.